After exploding letters and tax audit notifications, a STICKER CLUB letter may be the worst thing you can find in your mailbox.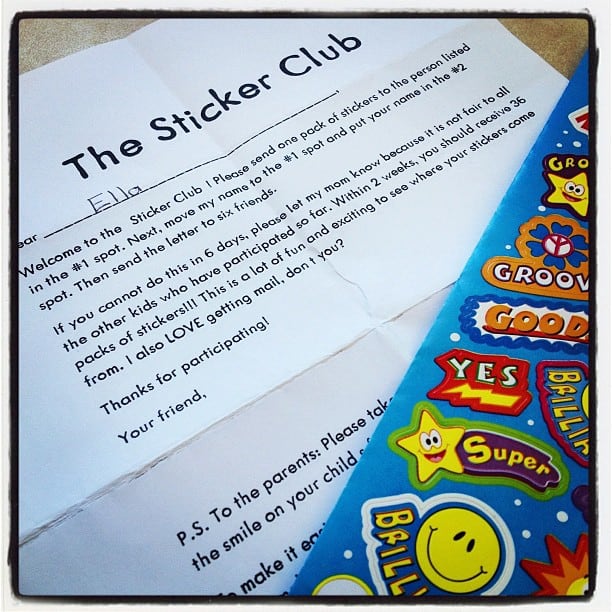 Therefore, I implore you to review this STICKER CLUB safety checklist before opening mail addressed to your child:
(1) Is the letter from a child who has never written your child before?
(2) Do you detect a subtle guilt-laden aspect to the mother's handwriting on the letter?
(3) Is the envelope suspiciously thin, with just one photocopied disaster of a STICKER CLUB letter inside, rather than the usual kid-folded marker-laden kid-to-kid missive?
If the letter you are holding meets any of this criteria, I encourage you to recycle it immediately without opening it. End the cycle with YOU and do not risk perpetuating this horror upon other mothers in the community.
"But Erica," you say, "My kid LOVES stickers and would have so much fun getting and sending stickers in the mail!"
WELL AWESOME. Have your kid write, address and stamp letters to his/her GRANDPARENTS, and other people
related to them
, and ask for stickers. That is the ONLY OPTION you have for morally obtaining stickers through the mail.
And, you ask, "What's the harm in just reading the letter?"
Do you like having white hot lights of GUILT beamed directly into your eyes? Because the STICKER CLUB letter typically contains this verbiage: "If you can't mail this letter to six of your friends, please let my mother know as it would be unfair to the children who have participated so far."
So if you read the letter, you are immediately in the position of having to
contact this mother and confess that you hate children
.
Everything about the STICKER CLUB stinks.
First, it's not a club. You don't get to shimmy up a ladder into a treehouse and goof off with stickers and your friends all afternoon.
It's a TACKY CHAIN LETTER, with a "
this is for the kids
" smear of guilt on top of it.
Consider yourselves warned, dear new mothers. The mailbox can be a dangerous place.